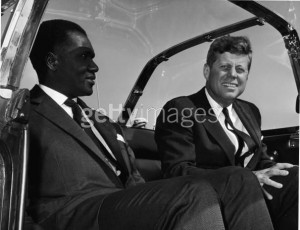 7/3/12 Meria interviews Abraham Bolden, the very first African American Secret Serviceman hand picked by JFK on his EXCELLENT book : The Echo From Dealey Plaza". Obama's Secret Service scandal in the Philippines and the same behavior during JFK's term; The continuing practice of the Secret Service guard detail; Pioneer for racial justice; Other attempts on JFK prior to Dallas; the Secret Service is to blame for the assassination due to their lack of professionalism; Partying is routine within the Secret Service; How Abraham met JFK and got hired by him; going backwards as a nation ever since, entering a total police state; Abraham's prophetic visions and spirituality; Railroaded into prison for what he knew; first African American whistleblower; "suffering is the greatest teacher a man can have"; "fear is a neutralizing thing"; the Secret Service referred to as "the Playboy Club"; Secret Service partying at a strip club the night before the assassination; missing/lost ID of a Secret Serviceman; the agent and the grassy knoll; and so much more. Abraham is an American HERO. I highly recommend his book.
Your subscription keeps truth flowing and gives you total access to the site. Please subscribe. Thank you!
---
A gripping and unforgettable true story of bravery and patriotism in the face of bitter hatred.

Abraham Bolden was a young African American Secret Service agent in Chicago when he was asked by John F. Kennedy himself to join the White House Secret Service detail. For Bolden, it was a dream come true–and an encouraging sign of the charismatic president's vision for a new America.

But the dream quickly turned sour. Bolden found himself regularly subjected to open hostility and blatant racism, and he was appalled by the White House team's irresponsible approach to security. In the wake of JFK's assassination, Bolden sought to expose the agency's negligence, only to find himself the victim of a sinister conspiracy. The Echo from Dealey Plaza is the story of the terrible price paid by one man for his commitment to truth and justice.