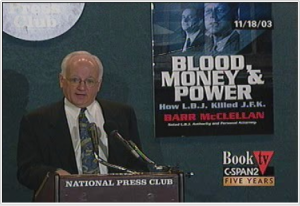 7/25/12 From the Solid Gold Vault an interview Meria often refers to: Her interview with Barr McClellan on his book "Blood, Money & Power, How LBJ Killed JFK". This was originally webcast on 3/25/04. What happened to the History Channel's "The Guilty Men"? 2 sons in Bush's White House and he couldn't get the time of day; The film The Guilty Men was censored, but Barr calls it a "cover up".
Your subscription gives you total access to this site including this fabulous show. Subscribe now.
---
An insider's look at America's greatest unsolved mystery.
Blood, Money, & Power
exposes the secret, high-level conspiracy in Texas that led to President John F. Kennedy's death and the succession of Lyndon B. Johnson as president in 1963. Attorney Barr McClellan, a former member of L.B.J.'s legal team, uses hundreds of newly released documents, including insider interviews, court papers, and the Warren Commission, to illuminate the maneuvers, payoffs, and power plays that revolved around the assassination of Kennedy and to expose L.B.J.'s involvement in the murder plot.
In addition to revealing new information, McClellan answers common questions surrounding the assassination of our thirty-fifth president. Who had the opportunity, motive, and means to assassinate J.F.K.? Who controlled the investigation and findings of the Warren Commission? This historically significant book is proof that absolute power, money, blood, corruption, and deception were at the heart of politics in the early 1960s, and it represents the very best investigative journalism has to offer. 35 black-and-white photographs