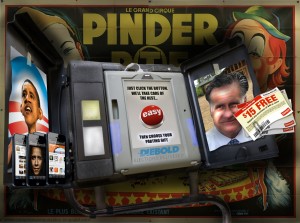 10/22/12 Meria interviews Victoria Collier, daughter & niece of the Collier Brothers "Votescam" followed by the news. Read her cover article this month at Harpers Magazine "The Stolen Vote"; In an honest election Obama would win, Romney & family/backers own the voting machines; repeat of 2000? GOP's base white male conservatives shrinking in US, no other way to win but steal it; elections are rigged by both parties and have been for decades; both are Corporatist parties; your vote goes into the electronic darkness.
In the News: Earthquake reports; George McGovern dead; Russell Means dead; Ellsberg on Romney; CIA facing arrests; CIA wants more armed drones; Israel blocks ship for Gaza; Salt Lake City Tribune backs Obama; Prop. 36 and the 3 strike law; Iran agrees to talks with next President; RNC official arrested for tossing voter registrations in Va.; nightmare election scenarios; Joe Walsh, Rep. says abortions never necessary to save a mother; Ryan says war on women is fiction; more mercenaries in Afghan than troops; Japan puts curfew on troops; 44 TSA workers fired; body scanners moved to smaller airports; 3 more bank failures;abortion laws tighten; Banana boat burns your skin;Holocaust reparations ripped off; transplanting poop; geo-engineering the ocean; mass shooting in Wisc; Rights group asking for election monitors; Nissan recalls Altima; Italian scientists convicted; and more "stuff".
Your subscription gives you total access to the site with all the information you need to know. Subscribe now.