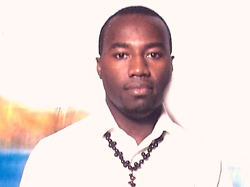 11/27/12 Meria interviews author and spiritual traveler Agbe Epou on his books "A Glimpse of Who We Are" and "Escape From the Third Dimension". Is the darkside real? Agbe began his journey in W. Africa and traveled the world to rid himself of negative forces; From believing in religion to believing in science, to believing in himself; the soul is stronger than a million supermen; Darwin- a member of a secret society; Science is a religion and distraction; we are being purposely manipulated; love crosses all barriers and is a strong protection; how to stay on a strong spiritual path; can we reincarnate to the past? the future? the fear based indoctrination of protein; eating low energy food attracts negativity; inter-dimensional beings; transhumanism; the non visible world; his trip to Peru and Mother Ayahuasca; the soul is a neutral energy; we are light in human form; more than just reptilians here; who are the destroyers of the world? difference between a vision and an hallucination; does time exist? Is one lifetime enough? Strong souls seem to endure much more than others and lots more.
Your subscription gives you total access to the entire site and helps support truth. Subscribe today.
---
This is the second element of my UNIversal autobiographical series. After waking up spiritually and understanding that humans have forgotten that A MILLION SUPERMAN PUT TOGETHER HAS ABSOLUTELY NOTHING ON ONE SOUL, I became aware that I and the rest of humanity are slaves, I sought to escape from The Third Dimension. In such pursuit, I traveled to West Africa, the Amazon River in Peru, Mexico, and Costa Rica in search of my liberty. During these trips, I learned some terrible things about how the world is really controlled. I also learned some wonderful things such as the fact that time travelling is really real, and was finally blown away when I learned that the Universe is really expanding and it is a fantastic feast!