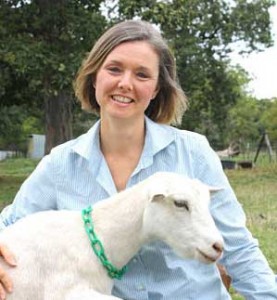 1/30/13 Meria interviews homesteader, author, speaker Deborah Niemann on her book "Eco Thrifty, Cheaper, Greener Choices for a Happier, Healthier Life". Want to save money and the planet too? how she went from the suburban life to homesteading;diet, health, exercise; no time is wasted; how to evolve into an eco-thrifty lifestyle; Do you need all those chemical cleaners? Medications? Greener IS cheaper; how to save on electricity; strategic cooking; clothing; clothes drying; the costs of eating out vs cooking at home; make your own beer & wine; lose the dsyfunctional relationship with food; an eco-friendly home; how to save on transportation, health care and even cosmetics.
An hour a day keeps the b.s. away – subscribe today for total access to entire site.
---
Use it up, wear it out, make it do, or do without--our grandmothers knew the importance of responsible, thrifty choices. But somewhere along the way we lost our way and succumbed to the belief that we can get everything for next to nothing, have it shipped halfway around the world and then, more often than not, just throw it away.
This consumer binge is taking its toll. Diet and lifestyle-related illnesses are epidemic, our environment is awash in a sea of plastic, our climate is changing, and the cost of everything is skyrocketing with the price of oil. Are we doomed? No. We can make greener, healthier choices, and we can do it while saving money.
Where to start?
Ecothrifty
is packed with simple, practical ideas and recipes to help you:
Make homemade products for cleaning and skin care
Grow your own food and cook more from scratch
Raise your family without lowering your standards
A must-read for anyone who has ever wanted to live a greener life but thought that it would be too expensive, time-consuming, or difficult, this handy, complete guide will show you how small changes can have a huge environmental impact and save you thousands of dollars, all while improving your quality of life.
Deborah Niemann
is a homesteader, writer, and self-sufficiency expert. The author of
Homegrown and Handmade: A Practical Guide to More Self-Reliant Living
, she presents extensively on topics including soapmaking, breadbaking, cheesemaking, composting, and homeschooling.