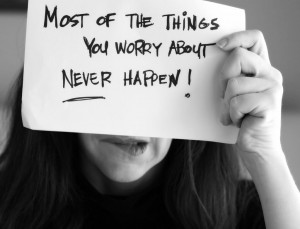 2/13/13 Meria interviews Kathryn Tristan, author of "Why Worry? Stop Coping and Start Living". Kathryn's history with anxiety, panic attacks; illogical to a scientist; worry is a choice; most of what we worry about never happens (85%); rewiring the brain; anger,worry,guilt and blame; the need to express emotions, not be controlled by them; how to cope; stress busters; an attitude of gratitude; can worry be healthy? terriblizing or possiblizing; self fulfilling prophecies; "we plan, god laughs"; lose the need to control; how to deal with worry over finances; living in the present; watch for the signs; happy talk; primary programming; giving away your power; mental marinade; anti-depressants; junk food; talk therapy; exercise to get those endorphins flowing; spirituality-the missing link; neurotheology and lots more.
Your subscription gives you total access to site 24/7. Subscribe now.
---
The statistics don't lie. Recent reports say nearly 20 percent of Americans suffer from anxiety, 75 percent worry about the economy, and 88 percent worry about retirement. Millions of Americans are in need of realistic strategies to overcome anxiety, worry, and stress. Kathryn Tristan's solution- oriented guide uses a simple four- step program drawing from a variety of disciplines to show readers how to start living the life they dreamed of.