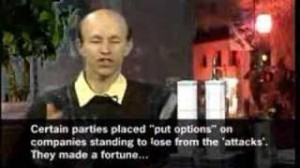 4/17/13 In the Wake of the Boston Bombings, 9/11 HAS to be revisited. Today is a golden oldie originally aired 9/27/05 with Eric Hufschmid on his book "Painful Questions- Analysis of the Sept 11th Attack". Show opens with "Ballad of William Rodriguez" by Vic Sadot. Why people would rather not know the truth; facing the ugly truth; media cover up; taking advantage of 9/11; "No catastrophe goes to waste"; Flight 93, where's the plane; photographers arrested-cameras confiscated; where are the videos? Bldgs 3,4, 5 & 6 destroyed as well; weird holes in Bldgs 5 & 6; fires in bldg 5; firemen "investigation a half baked farce"; Tom Daschle; snipers; war in Iraq; Global Hawk and more.
Your subscription gives you total access to site 24/7 and the education we all need today.
---
This book has the colour photographs, diagrams, and the analysis to show that the World Trade Center towers and Building 7 were demolished with explosives that were placed in the buildings in preparation for the 9-11 attack. This book is being used by people around the world to support the accusation that the US Government was the primary conspirator in the 9-11 attack. For two examples, David Ray Griffin references it in his book 'The New Pearl Harbor', and Andreas von Bulow, a retired German government official, is referencing it in his book published in Germany. If you believe Osama bin Laden attacked us without our government's assistance, why not find the flaws in this book, put these accusations to rest, and help restore America's credibility? If you already believe the attack was conducted by the US government, this book will help you educate your fellow citizens on the unbelievable corruption in our world.