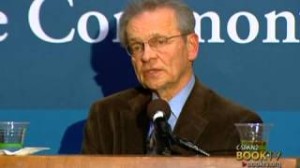 7/2/13 Meria interviews Melvin Goodman, twenty year veteran of the CIA on his latest book "National Insecurity, the Cost of American Militarism". His thoughts on the NSA and Edward Snowden & Bradley Manning; our bloated military budget; military aid with little return; supporting rogue states instead of our allies; The CIA today and then; Eisenhower's  Cross of Iron Speech; Obama talks one way, acts another; after 9/11 the US keeps shooting itself in the foot; Presidents without military experience; Bush's marriage of the CIA & the Pentagon; opportunity for new thinking; Cheney/Bush; Cheney and Valerie Plame's outing; Mel was a whistleblower in 1991; no protection for whistleblowers; Franklin on liberty; no checks and balances; the official corporate media's failure; privatization; foreign policy must change; loss or rights; Posse Comitatus and Northern Command; abuse of power; Europe sees the US as the #1 threat to security; total surveillance society;is this America? problems at home;what was the CIA doing in Benghazi? permanent war and much more.
Your subscription supports real media and gives you total access to site 24/7. Subscribe now.
---
"Mel Goodman has spent the last few decades telling us what's gone wrong with American intelligence and the American military, and now, in
National Insecurity
, he tells us what we must do to change the way the system works, and how to fix it. Goodman is not only telling us how to save wasted billions--he is also telling us how to save ourselves." -- Seymour M. Hersh,
The New Yorker
Upon leaving the White House in 1961, President Eisenhower famously warned Americans about the dangers of a "military industrial complex," and was clearly worried about the destabilizing effects of a national economy based on outsized investments in military spending. As more and more Americans fall into poverty and the global economy spirals downward, the United States is spending more on the military than ever before. What are the consequences and what can be done?
Melvin A. Goodman, a twenty-four-year veteran of the CIA, brings peerless authority to his argument that US military spending is indeed making Americans poorer and less secure while undermining our political standing in the world. Drawing from his firsthand experience with war planners and intelligence strategists, Goodman offers an insider's critique of the US military economy from President's Eisenhower's farewell warning to Barack Obama's expansion of the military's power. He outlines a much needed vision for how to alter our military policy, practices, and spending in order to better position the United States globally and enhance prosperity and security at home.
Melvin A. Goodman is the Director of the National Security Project at the Center for International Policy. A former professor of international security at the National War College and an intelligence adviser to strategic disarmament talks in the 1970s, he is the author of several books, including the critically acclaimed The Failure of Intelligence.