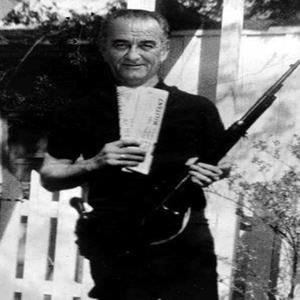 11/27/13 Meria interviews political strategist and author Roger Stone on his fabulous book "The Man Who Killed Kennedy, The Case Against LBJ". Stolen elections? -an old American tradition; Nixon was convinced LBJ was involved in the assassination. Roger worked with Nixon and should know; 4 future presidents in Dallas that day; Jack Ruby (Rubenstein) an LBJ man; Nixon tried investigating the assassination- got Watergate instead (and pardoned); Gerald Ford altered the autopsy records; Malcolm "Mac" Wallace the real shooter in the depository- LBJ's personal "hit man"; Mauser rifle found on 5th floor; Wallace fingerprint found; 30 yrs of research and 10 yrs to write this book; Roger's canned CNN interview; reinforcing the official "story"; LBJ: linchpin,alcoholic,whoremaster,crude,vicious, murdering loudmouth; LBJ's 3 illegitimate children-Jack Valenti his beard; 8 murders before JFK; Bill Moyers part in cover up and set up; youtube: The Men Who Killed Kennedy"; RFK vs. LBJ; did LBJ kill MLK & RFK? who benefitted the most? motive; George HW Bush involved; Bill O'Reilly in Dallas, why did he lie? why did LBJ duck before the shots were fired? profiteering off Vietnam and much more.
Support truly independent media with a subscription of choice TODAY. Total access to site 24/7. Thank you.
---
Lyndon Baines Johnson was a man of great ambition and enormous greed, both of which, in 1963, would threaten to destroy him. In the end, President Johnson would use power from his personal connections in Texas and from the underworld and from the government to escape an untimely end in politics and to seize even greater power. President Johnson, the thirty-sixth president of the United States, was the driving force behind a conspiracy to murder President John F. Kennedy on November 22, 1963.
In The Man Who Killed Kennedy, you will find out how and why he did it.
Political consultant, strategist, and Libertarian Roger Stone has gathered documents and used his firsthand knowledge to construct the ultimate tome to prove that LBJ was not only involved in JFK's assassination, but was in fact the mastermind.
With 2013 being the fiftieth anniversary of JFK's assassination, this is the perfect time for The Man Who Killed Kennedy to be available to readers. The research and information in this book is unprecedented, and as Roger Stone lived through it, he's the perfect person to bring it to everyone's attention.