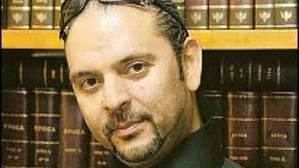 2/18/14 Meria interviews investigative journalist and best selling author Daniel Estulin on his latest mind blowing book "TransEvolution, The Coming Age of Human Deconstruction". Who are the Bilderbergs and what have they got planned? Hollywood is showing us what they have in store for us; google: Strategic Trends Report 2007-2036; our children as the last truly human generation;transhumanism=eugenics; changing DNA through GMO's; "The Age of Transition"; destruction of nation states; the Global policy; "The World of Blade Runner"; eugenics through economic destruction;rich conquering galaxies while we starve to death;Mars colony;immortality-what is it? social media; control on a societal scale;meaning of google; human radio waves are trackable;synthetic biology;life without memory;DARPA; technology for hybridization; 20 yrs from now; cybernetic immortality;"Russia 2045 Movement" and loads more. Can't recommend this book any higher! **See archives for interview with Daniel on the Bilderbergs 3/22/08.
There isn't another show that gives you the lifesaving knowledge this site does – subscribe for total access 24/7.
---
Arguing that the race to better humankind is about to go to a new dimension as a result of a nanotechnological revolution, this enthralling read purports that the depth of progress and technological development is such that people in the very near future may no longer be fully human. TransEvolution discusses the transition from human to someone—or something—new and different and the increasing trend of implementing prosthetics, organ implants, bionic eyes, hearing aids, and other technological augmentations. Humans are capable of doing things they never imagined would be possible 20 years ago, and the rapid growth of this trend is nowhere near its end. But do the benefits of these advancements come with a price? Is humanity in danger because of this domination of science and technology? Bestselling author Daniel Estulin describes his vision of the future in which he believes the elite will employ their Promethean plans.