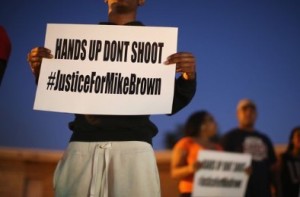 8/21/14 The Blasted News with Meria. Sending troops to Iraq;British citizen decapitates reporter, Obama furious; Obama not furious on Ferguson;Kiev wants shale gas deposits;Israel after gas reserves in Gaza;Israel & Ferguson block Amnesty Intl;Liberian cops shooting to kill; American doctor healed from Ebola;boycotting Jewish food;St.Louis cops kill another -Kajieme Powell;Prosecutor in Ferguson has a family of cops;Ferguson to continue arresting reporters;German reporters arrested, lost all respect for US; right-wing fakery about Brown;no robbery at store in Ferguson;demonizing Michael Brown;CNN reporters on Ferguson-disgusted;all 4 GOP candidates involved in corruption probes;latest Fukushima horrors -worse than Chernobyl;LA schools pull back on school to prison pipeline;"Anglo-American justice"-Mo.Lt.Gov;taser shares up;officer should have been arrested;man guilty of raping the dead;1 in 7 Americans hungry;drought worsens in Calif;wildfires in Yosemite;protests in LA over cop killing Ezell Ford;Rick Perry to lose guns?Ferguson cop threatens to kill reporter;hero of the USS Liberty died;psychiatric drugs & Robin Williams;Cops taser teen into seizures;Affluenza kid's father just as crazy;Flori-duh bans atheists from invocations;where were the soldiers at Bundy Ranch?5 deported kids murdered;cops rarely pay for murdering on the job;and more "stuff".
Commercial free thanks to your subscription. Subscribe today for unlimited access to site 24/7.
---
The World Is a Ghetto compares post-World War II racial dynamics in four countries or regions: the United States, South Africa, Brazil, and the European Union. Howard Winant argues that race remains crucial both for contemporary politics and for concepts of identity and culture. By investigating how economic development, labor processes, the ideals of democracy and popular sovereignty, patterns of social stratification, and even concepts of social and individual identity have been affected by the role race has played in the modern global democracy, Winant provides a new critique of racial exclusion and inequality.An invaluable tool for understanding the role of race in contemporary global politics, The World Is a Ghetto provides a sobering history of the real successes of movements for racial justice and democracy both in the U.S. and globally.