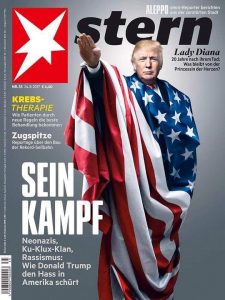 7/22/19 News of Planet of the Apes, with Meria. You know it's bad when this is the cover of a German magazine; trump straws; trumps distraction; Epstein & Mueller week; GOP racist party; death threats from trump pod people; Bolsonaro; Rossello; trump camps; trump and rapper; Chinese investment in US down 90%; are Chinese next? Iran and CIA spies; trump campaign seeks foreign help for 2020; Epstein has tapes; Letterman calls trump a psychotic; Sleepy Wilbur; Epstein's sweet deal investigated; 5G and the weather/health; "derecho"; troops to Saudi Arabia? threats work with the weak; Melania's "Epstein visa"? Sweden vs. trump; world leaders on trumps racism; incest; Fox & WH; Nadia Murad vs. the idiot; and more news too much to list here.
                                                                                                20th Year on the net!
Education you don't get anywhere else – commercial/censor free because of your subscription. Support truly independent media –. All downloadable.