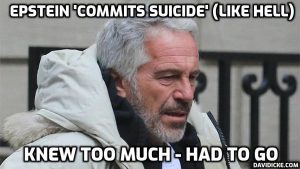 8/12/19 News of Planet of the Apes, with Meria. The real "Epstein-Barr" syndrome; Suicide?camera malfunction? autopsy incomplete? Barr visited Epstein? trump weakens Endangered Species Act; trump wants you drug tested to get unemployment; trump targets LEGAL migrants; "vacations"; the show "The Family" on Netflix; Hong Kong; trump makes fun of leader of So.Korea,kisses No.Korea's ass; cops leading cause of death of young men; Russia's missile explosion and protests; 12,000 plus trump lies; George Nader & Elliot Broidy; the Mooch vs. trump; farmers; Epstein case will continue; trump blames Clinton; military rape loophole; ICE raids; Ft.Detrick closed; 5 white male terrorists; trumps photo ops in ElPaso; radiation; trump goes nuts; Bernie on Israel; AIPAC; NRA; Andrew McCabe sues; China & Russia; Monsanto; Tucker; impeachment; Tommy Lee and more insanity
                                                                                                20th Year on the net!
Education you don't get anywhere else – commercial/censor free because of your subscription. Support truly independent media –. All downloadable.