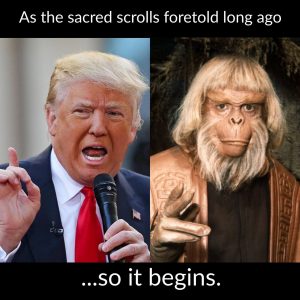 8/29/19 News of Planet of the Apes, with Meria. Deutsche Bank & trump's loans; trump turns on Fox; Shep Smith; Merkel "unite against China, Russia & US"; bedbugs vs. trump; trump "environmentalist"?David Koch; Epstein; win in Missouri;trump vs. kids; farmers vs. trump;Macron vs. Bolsonaro; Hurricane/trump/Puerto Rico; trade war slamming Americans; voting machines; hypocrites; cop sentenced; another chokehold; trump dump in polls; Opioids are us; Queen & Boris; Russia's nuke disaster;Brazil; Keystone Pipeline;China;Israel; Johnson & Johnson; trump slams Obama,praises Putin;WH targets journalists; Sacklers; William Barr; worn out by trump; and loads more insanity.
                                                           

20th Year on the net!
Education you don't get anywhere else – commercial/censor free because of your subscription. Support truly independent media –. All downloadable.