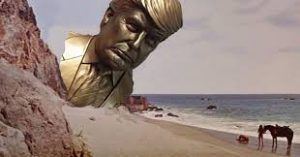 9/2/19 News of Planet of the Apes, with Meria. Hurricane Dorian, trump golfs; More mass shootings; more white rapists go free; Bahamas; boat fire; Texas gun laws; white supremacists get a pass; straight pride? More TAXES (tariffs) on us; police dehumanize protesters in Japan; MSNBC cuts trump off; trumps latest insane rants; Comey; dogs or kids? Pence lies about Obama; Israel; Bernie; trump reverses 84 environmental laws; Valerie Harper dead; Iran; Sirhan stabbed; Tiffany; trump vs. workers & unions; China & GM; Amazon on fire; Epstein's case; 9/11 trial in 2021? trump Russian asset; Bolsonaro; Stephen Schwarzman, trump supporter & the Amazon; and loads more news.
                                                           

20th Year on the net!
Education you don't get anywhere else – commercial/censor free because of your subscription. Support truly independent media –. All downloadable.