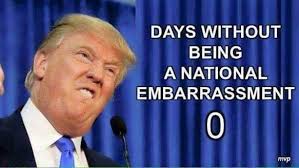 9/9/19 News of Planet of the Apes, with Meria. US extracted spy inside Russia for trumps loose lips; No VISA no ferry? Martha McSally, unelected liar; John Legend, Mick Jagger vs. trump; impeachment? troops to pay for wall; Epstein; Brazil; Venezuela; trump & the Taliban (and Putin); fire trap boat; India fails; NOAA vs. the dictator; trump "extorts" the Ukraine; mental case wants Google to tell if you are; MAGA hats; China; Odessa; trump vs. clean air/water; Brexit & Johnson; stripping voters off rolls; food stamp cuts in trump country; AOC on impeachment; Mugabe dead; border wall thru trump voters properties; Israel & Adelson's; McConnell; trump dodged taxes; and loads more information.
                                                           

20th Year on the net!
Education you don't get anywhere else – commercial/censor free because of your subscription. Support truly independent media –. All downloadable.