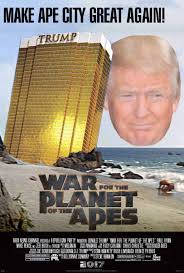 9/12/19 News of Planet of the Apes, with Meria. John Bolton quits, replaced with worse; Israel's Sting Ray device spying on WH; gun violence vs. vaping; Boris Johnson; trump repeals clean water regulation; Bahamas; trump flip flops on China; wants 100% tariffs on European goods; Iran-will trump give them $15 billion? trump wants negative interest; Michael Cohen; Michael Flynn; Fukushima; Warren; 1200 polling sites closed; racist judge; politicized Supreme Ct; internment camps for homeless; drugging horses; 9/11; Judeo Christian lunatic; T.Boone Pickens dead;N.C. dirty GOP; Mick & Sharpiegate; Netanyahu; Putin warned Bush; selling off our "commons"; Pence; Fox News and more insanity.
                                                           

20th Year on the net!
Education you don't get anywhere else – commercial/censor free because of your subscription. Support truly independent media –. All downloadable.