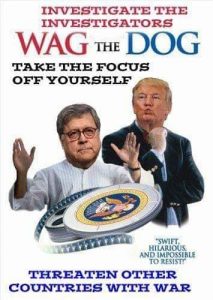 9/16/19 News of Planet of the Apes, with Meria. Houthi admit hitting Saudi Arabia, trump waits on orders from Saud's; Sacklers file bankruptcy; Kavanaugh -more charges; moron in chief; killing the bees; FBI fails; UAW on strike; coup master Kozak; stolen election in N.C.; Hong Kong;Boris Johnson; light bulbs; Netanyahu;Stormy Daniels; GOP's fake photos; Iraq;Adam Schiff; politicized Supreme Court; Felicity Huffman; private prisons; the debates; water protections gone; tent courts; Israel bugs WH, no response; and more insanity.
                                                           

20th Year on the net!
Education you don't get anywhere else – commercial/censor free because of your subscription. Support truly independent media –. All downloadable.