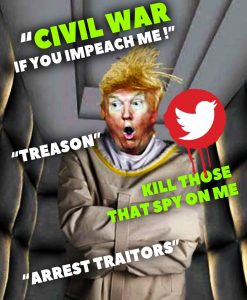 9/30/19 News of Planet of the Apes,with Meria. Ukraine prosecutor-No evidence of Biden wrongdoing; trump's psychotic meltdown; trump threatens civil war and executions; Minneapolis vs. trump rally; Barr & Guiliani; Hillary's emails? what about the trumps? rats flee; impeach; Russia doesn't want transcripts released; Adam Schiff; Bossert on trump; whistleblowers life threatened; NRA/Russia/trump; emoluments; Fox & trump; Hong Kong; netanyahu; 32 horses dead; Boris Johnson; child porn at MarALago; 3 trump losses; moron at U.N; SEC vs. Israeli con men; trump calls dems "savages"; Karen Pence school; Iran vs. trump; IRS whistleblower on trump; and much more news.
                                                           

20th Year on the net!
Education you don't get anywhere else – commercial/censor free because of your subscription. Support truly independent media –. All downloadable.