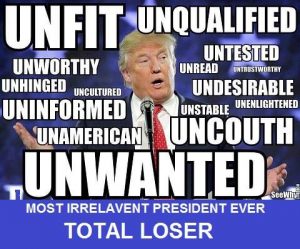 10/21/19 News of Planet of the Apes, with Meria. Slaughter in Syria; Mulvaney admits quid pro quo; does the WH need another tennis pavilion? Tornadoes in Dallas; the troops; Elijah Cummings demonized by "christians"; crazed trump supporters; Wall St on trumps resignation; Israel; college scandal; Nancy in Jordan; Hillary vs. Tulsi; Tulsi's dad; William Barr-Opus Dei; Hillary vs. Donald; Mark Esperanto? G7 and Doral; Bernie; Bolton; trumps kids; billionaires cashing in on farm aid; f/b lies; worldwide civil unrest; 13,435 lies from trump so far; trump dog whistles the market; Sacha Baron Cohen vs. Zuckerberg; Rick Perry quits; dead dolphins; NASA astronauts; Pence; Erdogan; Mattis vs. trump; baby food; Fukushima; more "nones"; and more insanity.
                                                           

20th Year on the net!
Education you don't get anywhere else – commercial/censor free because of your subscription. Support truly independent media –. All downloadable.