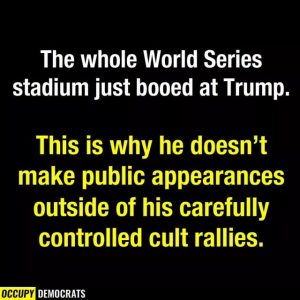 10/28/19 News of Planet of the Apes, with Meria. Ronan Farrow vs. NBC; trump booed at World Series "Lock Him Up"; Missouri; Netanyahu; Katie Hill resigns, trump doesn't; California's fires, no word from trump; US protects oil not people; Iraq; John Conyers dead; trump/Mussolini; mass shooting in Texas; GOP exhausted from trump; Elijah Cummings funeral; John Kelly; staged "war room" photo-trump golfed; ISIS raid/a-Baghdadi bull; trump's brother gets govt contract; the "wall"; "fake news" trademarked; Judge rules impeachment inquiry legal -release Mueller report; f/b; Tulsi & India; trumps DC hotel; Rudy's "butt dial"; DeVos in contempt; who is Aurelia Skipwith; crazed christians; and more insanity.
                                                           

20th Year on the net!
Education you don't get anywhere else – commercial/censor free because of your subscription. Support truly independent media –. All downloadable.