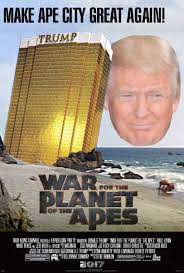 11/14/19 News of Planet of the Apes, with Meria.
Another school shooting;Impeachment hearings; trump hosts Erdogan praises him; Jim Jordan; Taylor & Kent-dynamic duo; worse than Watergate; guilty republicans; Erdogan's propaganda film; Jimmy Carter; homelessness; Neil Young; Israel vs Gaza; Bernie on Israel; Venice floods; superbugs; plastic in seafood; the Plague; Mulvaney; Stephen Miller needs to resign; trump locks up almost 70,000 kids; Rudy; John Bolton; Hillary; Judge Napolitano says impeach; more trump lies; another gift to Russia; Nikki Haley; DACA; hate crimes rising; Rick Gates/Roger Stone/trump/Wikileaks; more losses for trump; Mina Chang-grifter; Lebanon military aid freeze; how to be a billionaire; Bolivian coup; deal with Taliban; Johnson & Russia; and lots more insanity.
                                                           

20th Year on the net!
Education you don't get anywhere else – commercial/censor free because of your subscription. Support truly independent media –. All downloadable.