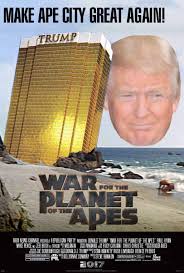 11/18/19 News of Planet of the Apes, with Meria. Pay to play-Bahamas ambassador; trump to Walter Reed; will trump show up at hearings? Christine Ford gets award; No.Korea is over trump; Hong Kong; another blow to trump in La; Planned Parenthood wins $2 million lawsuit; trump backtracks on vaping; Pence aide testifies; "fog of news"; trump hypomanic; trump vs. Chris Wallace; more shootings; China's internment camps; Chile; Bernie speaks out on Bolivia; Boris Johnson & Russia; Prince Andrew; trumps a killer; Lev, Igor & trump; trump pardons war criminals, a war crime; Roger Stone convicted; Israel; Venice floods; Yovanovitch; Guiliani being investigated; Texas and the wall; RNC pays to play; trumps taxes; African swine fever; Bill Clinton; bad trump judicial nominee; US drops to 32; trump detrimental to American's mental health and more.
                                                           

20th Year on the net!
Education you don't get anywhere else – commercial/censor free because of your subscription. Support truly independent media –. All downloadable.