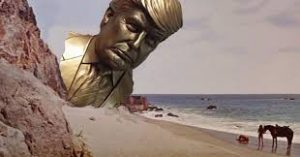 12/2/19 News of Planet of the Apes, with Meria. My reviews of "The Report", "The Irishman" and "Gamechangers". Lisa Page strikes back; women leaving GOP in droves; impeachment; NATO cuts, food stamp cuts; no show trump; more hate rallies-trump & Netanyahu's; Bolsonaro vs. DiCaprio; Pentagon departures; war criminal trump; Guiliani's crimes; China vs. US; Zelensky; more shootings; the trump curse; Roseanne; Russia/Brexit/Johnson; suicides up, birth rates down; torture program Billingslea appointed; stabbings; 1.9%; trump hallucinates on Afghanistan; No.Korea; Iraq; FBI didn't spy on trumps campaign; Robert Redford on trump; Rocky trump? another "suicide"; O'Malley vs. Cuccinelli; Trump Towers two sets of books; kids tasered in school; GOP again sends email to Dems; trump doesn't know what centennial means; Jared; and tons of insane news.

                                                           

20th Year on the net!
Education you don't get anywhere else – commercial/censor free because of your subscription. Support truly independent media –. All downloadable.