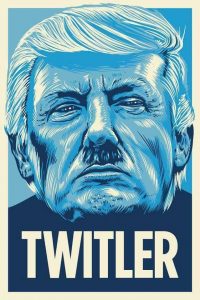 12/9/19 News of Planet of the Apes, with Meria.
Who tweeted over 100x yesterday? The Afghanistan Papers; Paul Volcker dead; volcano blows; Russia banned from sports; Barr & Guiliani; 1/5th of Israeli's hungry; trump threats; Nadler; "christians"; Boris Johnson; no political bias; 6 Saudi's arrested for Pensacola shooting; vetting? Macron; Franklin Graham; Pearl Harbor; impeachment; wall breaking the law; No.Korea's threats; 51% earn less than $30,000; targeting congresswomen; trump judges; govt doesn't represent the people; trump parades war criminals; Eric in the Ukraine; Tucker loves Russia; McDougal sues; trump on toilets & giving birth; trump insults Jews again; insurance in Calif; trumps undocumented workers spill the beans; Nader on impeachment; cops kill again; Amazon caves in; shrinks on trump & his supporters; food stamps; $1.9 trillion for the rich; another kid dies in custody; Pelosi; and tons more insanity.
                                                           

20th Year on the net!
Education you don't get anywhere else – commercial/censor free because of your subscription. Support truly independent media –. All downloadable.