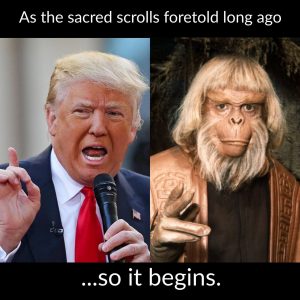 12/30/19 News of Planet of the Apes, with Meria.
Michelle beats Melania; John Lewis cancer; trump "bad news for the Jews"; trumps executive order; trump hates NY (vice versa); victim kills pedophile priest; cops tase 70 yr old grandma; Conway on the 25th amendment; US & UK don't represent their people; suing US contractors; Ivanka; trump & Putin's latest; Where's Mick? fundamentalist and brain damage; trump outs whistleblower; christians fighting christians; McConnell; trumps pals; trump united Russia/China/Iran; resign; whining trump; Pelosi; more uninsured; Bill Barr; Home Alone 2; trump alone in madness; stabbings & shootings; plane crashes; ICE; trump & Jesus; rich got 25% richer; Ring being sued; tariffs failure; China;Somalia; AOC; Gaza; Lev's broke; 80 environmental protections gone; Putin vs. Navalny; psycho christian Zilinsky; Netanyahu and tons more news.
                                                           

20th Year on the net!
Education you don't get anywhere else – commercial/censor free because of your subscription. Support truly independent media –. All downloadable.