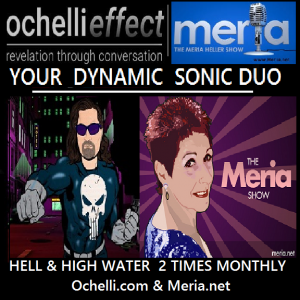 1/14/20 Hell & High Water, with Meria and Chuck Ochelli.
Calamities around the world, from Puerto Rico to Africa; "The World Is A Ghetto"; Jimmy Carter, JFK, Obama, trump; the true controllers; the movie "They Live"; Rich and powerful get away with murder; Hillary; impeachment; the lies on Iran; The Shah of Iran; terrorism; MSM; more news from late night hosts; protests in Iran? social media used as mind control; Isolation; Harry & Meghan; "The Irishman"; Sebastian Maniscalco; loss of critical thinking and loads more.
                                                           

20th Year on the net!
Education you don't get anywhere else – commercial/censor free because of your subscription. Support truly independent media –. All downloadable.