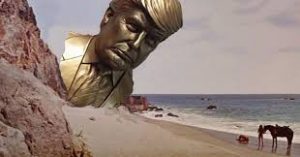 1/20/20 News of Planet of the Apes, with Meria.
MLK Day -White Supremacists gun rally-Va; trumps conflicts of interests; trump -9/11 attackers treated better than him; impeachment; Don Jr. & Lev; everyone in pics with Lev, including trumps entire family; Andrew Peek escorted out of the WH; trumps made-for-t.v. lawyers; Conway on why no lawyer wants to rep. trump; Lev Parnas credible; Devin Nunes; Lindsay Graham; Sea wall for NY? trumps golf course sea wall; chemical leaks in Philly; Dershowitz; Iran's war crimes case; Captain Sully vs. Lara trump; Olympics radiation; Pompeo; Delta cited; Michelle Obama; Chris Collins sentenced; Brexit; trumps wall; more States sue trump; coronavirus; Evelyn Yang; GOP hypocrisy; Kamala Harris; James Comey; cannabis news; Bill Barr, puppet; Martha McSally; and loads more news.
                                                           

20th Year on the net!
Education you don't get anywhere else – commercial/censor free because of your subscription. Support truly independent media –. All downloadable.