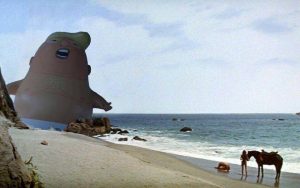 1/13/20 News of Planet of the Apes, with Meria.
Twitter attacks on Pelosi from trump; Obama's nomination for Oscar; Esper says no proof of trump on Iran; Obamacare;Volcano in Philippines, earthquakes in Puerto Rico, fires in Australia & Africa; floods; storms in US; Saudi's getting the boot in Pensacola; impeachment; trump threatens Iraq; trump psychosis; constitutional prayer? Suleimani aftermath; China; No.Korea; selling our troops; Bloomberg; Corey Booker & Williamson out; social media mind control & censorship; Cancer; deregulations continue; Incels – domestic terrorists; Mike Lee; Bernie; poverty in US; Israel; UK; Taliban; alcohol deaths rise; more countries on the travel ban; GOP Karyn Turk guilty; Matt Gaetz; John Bolton; Flight 800; facebook; more trucker layoffs; NYC investigating trump; Bernie; 409Ks? Doug Collins; DOJ ends Clinton investigation; swearing in on Codes book; trumps "EPA"; crazy "christians'; Epstein; and loads more.
                                                           

20th Year on the net!
Education you don't get anywhere else – commercial/censor free because of your subscription. Support truly independent media –. All downloadable.