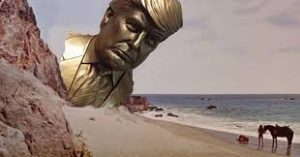 2/3/20 News of Planet of The Apes, with Meria.
More shootings; Super Bowl; trump congratulates Kansas; Coronavirus; Israel & West Bank; Arab states; Iowa Caucus; Bernie; $3.4 mil tax dollars for trumps Super Bowl party; GOP "kill socialists"; expert sees genocide on horizon; UK stabbing; Mistrial; trumps corrupt lawyers; Bloomberg vs. trump; trumps pastor calls him a liar; UK biowarfare tests; spinning door; extending travel ban; Iraq; Mar A Lago breach; bird flu, swine flu; fake christians; Dettol Surface cleanser; Palestinians; Netanyahu; Kushner; ICC; Romney shunned; trial a sham/coverup; Nader on trump & democrats; Dow drops; quarantines; and tons more insanity.
                                                           

20th Year on the net!
Education you don't get anywhere else – commercial/censor free because of your subscription. Support truly independent media –. All downloadable.