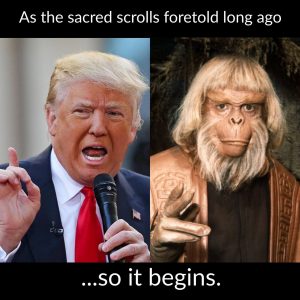 2/13/20 News of Planet of the Apes, with Meria.
John Kelly vs. trump; Bloomberg vs. trump; Hope Hicks back; Justice Dept; Robert Hyde spills; Yovanovich wins award; uptick in white supremacists; pro choice terrorist? trump stops scheduled pay raises; Iowa flipped a coin for Pete; Who is Pete? war powers; Radio Sputnik; Barr should resign;Roger Stone; Mnuchin; AIPAC is a hate group; authoritarianism; abuse of power heightens; Bernie vs. Pete; Bernie won; Coronavirus; The Pope; radio signal from Space; Jim Jordan's cover up; trumps new budget; Pelosi; Duterte vs. trump; Tulsi; Rudy; GOP votes down election bills; Hookers for Jesus; North Korea; another shooting at a Walmart; trump racist; and loads more news.
                                                           

20th Year on the net!
Education you don't get anywhere else – commercial/censor free because of your subscription. Support truly independent media –. All downloadable.