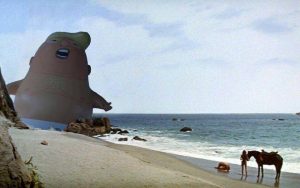 2/24/20 News of Planet of the Apes, with Meria
Protesting trump in India; trumps properties in India; Sanders leads; AIPAC attack ads against Bernie; Roger Stone; Weinstein convicted; trumps clean water rollback; GOP ignores Russian interference; Bernie on Russia; Katherine Johnson dead; Coronavirus spreads -Italy, Iran, Israel, So.Korea, US; trumps "enemies list and purges"; Bloomberg lies and Bolsonaro; 57 farm bankruptcies; trump vs.Bolton; Colorado River; Coral reefs; DOD's "pandemic plan"; coronavirus and China lab; UK hospitals; $$millions lost in Middle East; Erik Prince charges; jailed for unpaid medical bills; trumps brand dying; GOP's fake census forms; Richard Grenell; 9th Circuit court; Boy Scouts; Devin Nunes loses again; trump insults Native Americans again; another farm bailout? and loads more news.
                                                           

20th Year on the net!
Education you don't get anywhere else – commercial/censor free because of your subscription. Support truly independent media –. All downloadable.