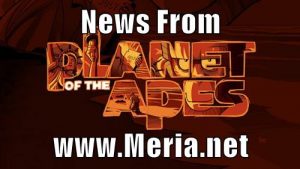 3/23/20 News of Planet of the Apes, with Meria.
Coronavirus updates worldwide; LA schools closed to May 1; Dr.Fauci vs. Dr.Moron; trump wants lockdown to end in 15 days; trumps hatred on display in propaganda pressers; going to work sick; Rand Paul; Nigeria warns against Chloroquine; nanos in pesticides; Ohio and non-essential?abortions? Amazon; pollution plummets; Weinstein tested for virus; Feds & Market; trumps folly continues; US Sanctions worsening conditions; Bolsonaro; Germany; Kenny Rogers dies; DOJ tries to do away with habeas corpus; recession/unemployment/homeless; Israel; DHS empty; Where's Biden? Bernie; Pence & fake christians want that money flowing; $1 trillion a day to banks; Italy; and tons more news.
                                                           

20th Year on the net!
Education you don't get anywhere else – commercial/censor free because of your subscription. Support truly independent media –. All downloadable.