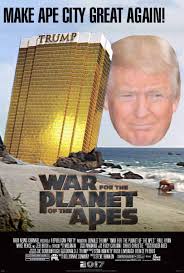 3/26/20 News of Planet of the Apes, With Meria.
Mexico & Brazil ignoring lockdowns; India/UK on total lockdown; self quarantining; cases/deaths rise in US – trump wants us back to work; most hospitalized under 50; death by trump; Bernie; Biden; trump vs. First Amendment; losing environmental protections; some wins; 3 mil file for unemployment; rescue package? Cuomo; Easter?; Israel; US pop. slow growth; trump threats; pushing on Maduro; Bill Barr; white supremacist killed; Dakota pipeline; trump on Nov 3; G7 vs. trump; Dr.Fauci; Bolsonaro; trumps quid pro quo to States; Suing Richard Burr; churches; hantavirus; Vitamin C; New Zealand; should seniors die for economy? Kushner; GOP death panels; loads more news.
                                                           

20th Year on the net!
Education you don't get anywhere else – commercial/censor free because of your subscription. Support truly independent media –. All downloadable.