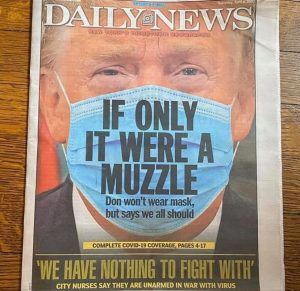 4/23/20 News of Planet of the Apes,with Meria.
U.S. a third world country; Dog breeder in charge; coronavirus latest; DeBlasio's surprise; Canada's mass shooting; trump killing environmental protections; 26 mil on unemployment; trumps "cure" gone; billionaires & corporations getting richer; PPP to the rich? food; clean water & CO2; Rick Bright dismissed for telling the truth; trumps Iran distraction; Kim Jon Gone? Fox News responsibility; immigration & the racist; abortions; meat plants; go bankrupt -McConnell; Mayor of Vegas; Franklin Graham gets WHO money; Bill Barr; Nader on trump; faulty test kits; kids go hungry; death of oil? Italy; Israel; trump wants bailout; Fauci; GOP fake pro lifers; Robert Goforth; will execution drugs help? GOP Senate: Russia interfered in 2016; 9/11; worker walkouts worldwide; go cashless? and tons more news.
                                                           

20th Year on the net!
Education you don't get anywhere else – commercial/censor free because of your subscription. Support truly independent media –. All downloadable.