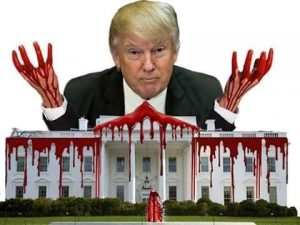 News of Planet of the Apes, with Meria.
4/27/20 Latest on coronavirus; don't drink bleach!; sarcasm? no presser; Big corporations getting stimulus; tracking you; air pollution; starvation; trumps twitter madness accelerates; Nobel or noble? racism; vote by mail; trump vs. Post Office; Fauci; Gates; GOP sinking in polls; McConnell gets reamed; Michael Cohen; Dr.Birx; West Point; end of American exceptionalism; trump Org in trouble; trump owes China millions; Brazil; ICE; Oprah; Ecuador; Biden; air pollution & virus; Putin & trump; rent strike; reinstate Capt. Crozier; flu shot & virus; hospital raided; air show? Georgia; deficit soars; propping up the Market; Cuomo; trumps quid pro quo to States; wealthy fleeing; fear of treatments; tons more news.
                                                           

20th Year on the net!
Education you don't get anywhere else – commercial/censor free because of your subscription. Support truly independent media –. All downloadable.