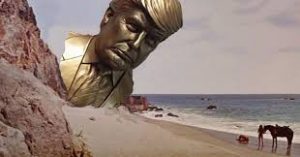 4/30/20 News of Planet of the Apes, with Meria.
Latest coronavirus news over 72,000 Americans dead; trumps lies continue; trump pissed at polls; 30 million on unemployment; layoffs continue; Calif; testing; drug money laundering & virus; Biden; Bernie; Cuomo; McConnell; liability; to open or not; meat packers; sarcasm? Bolsonaro; Turkey; Israel; Palestine; big oil; strikes; Grand Canyon; depression coming; Native Americans get nothing; Lindsey; West Point; corporate welfare; older whites fleeing trump; Pence; Jared; red States -takers; blue tsunami; Germany; drinking hand sanitizer; medical layoffs; Russia; Boris Johnson; Obamacare; trump ignored daily briefings; suicides; vaccines; what drug is trump on and loads more news.
                                                           

20th Year on the net!
Education you don't get anywhere else – commercial/censor free because of your subscription. Support truly independent media –. All downloadable.