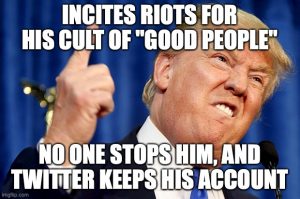 4/20/20 News of Planet of the Apes, with Meria.
Happy 4/20? Earth Day; protesting Netanyahu; coronavirus latest; trump cult protesters backed by right wing; failed State USA; Cuomo; sociopathic pressers; Floriduh; oil at $12 barrel; nature rebounds; Germany; Los Angeles; Pelosi; where's Congress? audits for trumps giveaway; Putin & trump; WHO; plane crash; China's economy; Pence, chief boot licker; Mark Meadows cries; trump vs.Governors; trump drops in polls; Michele vs. Melania; Russia still interfering; slaughterhouses; trump campaign pays trumps women; Dr.Phil of it; the wall; UN ceasefire; Michael Cohen; Roger Stone; trumps quid pro quo's; S.Korea; Bill Barr & 9/11; food rations; Bolsonaro; vote by mail? and more insanity.
                                                           

20th Year on the net!
Education you don't get anywhere else – commercial/censor free because of your subscription. Support truly independent media –. All downloadable.