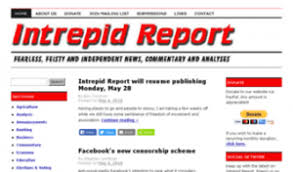 5/6/20 Meria With Bev Conover , Editor of the Intrepid Report.
More insanity every day; Project BESTT; Medicare, Social Security, AI education on chopping block; Americans don't like intelligent people; trump represents his cult only; trump and the rich don't get it; incapable of thinking; billionaire congress; food banks; virus conspiracies; masks? Dr. Fauci; Joe Biden & MSM; Mitch McConnell and packing courts; the Deep State is OUT in the OPEN; Ron DeSantis; Cuomo; the Post Office; National banks; vote by mail; stimulus or support? pathetic; food chai; globalization; George W and more.
                                                           

20th Year on the net!
Education you don't get anywhere else – commercial/censor free because of your subscription. Support truly independent media –. All downloadable.