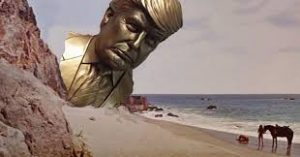 5/21/20 News of Planet of the Apes, with Meria.
Lives could have been saved; 38 million unemployed; multiple store closings; Lori Loughlin to plead guilty; trump withdrawing from another arms control pact; Hydroxy kills; China; Venezuela; more cases after re-opening; Michael Cohen released; prison guards & Covid; indict perpetrators of Covid; Supreme Court blocks release of Mueller report; masks; surveillance & police state worldwide; Israel; Strikes erupt; trump screws National Guard; eliminating watchdogs; Michigan floods; Biden; Jane Roe paid off by evangelicals to lie; priests dying; Pompeo; contact tracers or jack boots? another bank bailout; mail in votes; dying for $8 a day; losing teachers; sports; and loads more news.
                                                           

20th Year on the net!
Education you don't get anywhere else – commercial/censor free because of your subscription. Support truly independent media –. All downloadable.