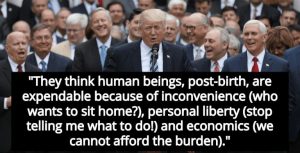 5/7/20 News of Planet of the Apes, with Meria.
CDC's guidelines to reopen rejected by WH; Fauci/Wuhan; RBG; food stamps; meat prices/restrictions; coronavirus mutates; Colorado election fraud; 33 million on unemployment; Calif reopens slowly; Israel; police state; snitching; Iran; China; WW3; trump crony in at Post Office; shootings over masks; we're "warriors" now; lawsuits; Robert Kennedy Jr; relaxing rules on nuclear waste; 100 environmental laws reversed by chump; Ducey fires scientists; chumps failed Venezuelan coup; Mueller investigation; crazed trump fans & christians; Iraq;DeVos likes rapists; Israel;Ilhan Omar; Brazil; trump on D.C.; McConnell; socialism; Kushner; Tara Reade; layoffs; bankruptcies; Russia; and loads more news.
                                                           

20th Year on the net!
Education you don't get anywhere else – commercial/censor free because of your subscription. Support truly independent media –. All downloadable.