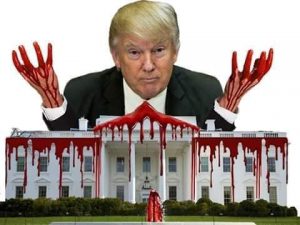 5/11/20 News of Planet of the Apes, with Meria.
ObamaGate insanity from trump; DeVos protects rapists; election; coronavirus; reopening; virus in West Wing; no masks for trump/Pence; Bill Barr, cover up; Michael Flynn; Calif; Capt. Crozier; Jerry Stiller, Little Richard, Roy Horn dies; airlines; Dr.Fauci; unemployment; no ethics trump; Sweden; nurses, grocery workers die; Obama and rule of law; Ahmaud Arbery's murder; drones/robots on social distancing; arrests; Amtrak; Secret Service test positive; Vitamin D; Dr.Bright; Jim Bakker's stroke; food lines; liability; party of "life"; shut down factory farms; Obamacare; Bridgegate; Bolsonaro; white privilege; 100 tweets and lots more insanity.

                                                           

20th Year on the net!
Education you don't get anywhere else – commercial/censor free because of your subscription. Support truly independent media –. All downloadable.