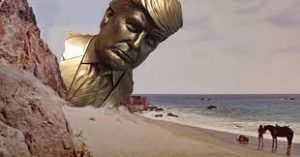 5/18/20 News of Planet of the Apes, with Meria.
4th IG fired at behest of Pompeo investigating illegal arms sales to Saudi's; Al Queda & Pensacola; trump goes nuts over whistleblower Dr.Bright; Obamagate; Obama's speech; idiocy from trumps sons; vaccine; latest on Covid 19; White cops vs black trans; explosion in LA; Calif emptying prisons; Manafort walks; Latino's and kids and Covid 19; Bernies latest; Biden's latest; Alaska lawmaker defends Hitler; Amash drops out; cases up in rural America, Texas & Fla; 89,000 dead so far; beaches; trumps emoluments case proceeds; Fred Willard dead; relief package DOA; seniors turn on trump; surveilling you online; Glacier in Alaska; McConnell apologizes; trump threatens social media; earthquakes; JC Penney files bankruptcy; school; Israel wants $38 billion; starving or suicide; retail; Mike Flynn; UFO's; testing;China;hate crimes up and tons more news.
                                                           

20th Year on the net!
Education you don't get anywhere else – commercial/censor free because of your subscription. Support truly independent media –. All downloadable.