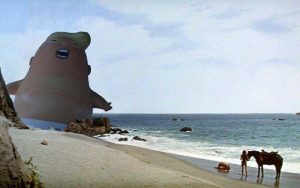 6/11/20 News of Planet of the Apes, With Meria.
Racist picks Juneteenth for his hate rally; Army Gen. Mark Milley apologizes; cops beating/killing protesters -slashing tires; more chokehold deaths; another 1.5 mil. file for unemployment; recession; Tucker Carlson; Georgia's election; trump threatens Seattle, told to go back into his bunker; trump vs. polls; 2 mil cases of Covid 19 in US and climbing; impunity for cops; overpaying farmers; NASCAR; Floyd & Chauvin bumped heads; Fauci; Bill Barr; Michael Flynn-abuse of prosecutorial power; Mueller report un-redacted; cowardly GOP; trumps tweets and Russian propaganda; Antifa; John Bolton; KKK; crazed trump fans; CrossFit; police unions; killed over headlights; Biden; Iran; Israel; Iraq; my pillow guy; Boris Johnson; Jared; Brazil; and much more.
                                                           

20th Year on the net!
Education you don't get anywhere else – commercial/censor free because of your subscription. Support truly independent media –. All downloadable