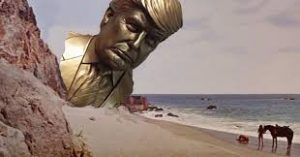 6/25/20 News of Planet of the Apes, with Meria.
Coronavirus cases soar in South – trump cuts $$ for testing; another 1.5 mil. file for unemployment; 40% unemployment; trump paid dead people; more bad cop stories; ICC vs. trump; Bill Barr; Rhode Island changing name; trump protects statues, not people; Russia; Bolsonaro; dozens of secret service in quarantine; 200 loser judges; Michael Flynn; Roger Stone; trumps niece; Biden; Obama; cops backgrounds exposed; Bubba Wallace; states & EU quarantine Americans; voter suppression; progressives winning; Chinese donate to trump; earthquakes; immigration; loads more news.
                                                           

20th Year on the net!
Education you don't get anywhere else – commercial/censor free because of your subscription. Support truly independent media –. All downloadable.