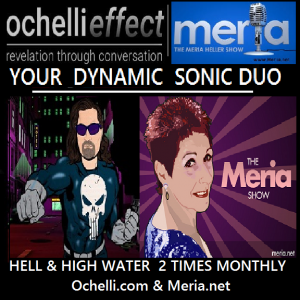 7/28/20 Hell & High Water, With Meria & Chuck Ochelli.
First half of show is politics, second is your health & building your immune system; what to do when you feel sick; Twitter and the trumps; William Barr on Capitol Hill; Rose Garden Melania; secret police (mercenaries) on our streets; GOP's bill for stimulus is actually for the military; Bush & Hussein; fascism; Where's the Libertarians? 2nd amendment folks? Ghislane Maxwell; Barr & Epstein; Texas hurricane; depopulation agenda? immune system; diet & D3 and lots more.
                                                           

21st  Year on the net!
Education you don't get anywhere else – commercial/censor free because of your subscription. Support truly independent media –. All downloadable.

Twenty first anniversary celebration of the Meria Heller Show!