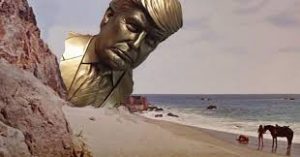 7/2/20 News of Planet of the Apes, with Meria.
Supremes hiding the Mueller Report; Ghislaine Maxwell arrested; Pizza Hut/Wendy's file Chapter 11; movies close; virus stats; trump knew about Russians paying bounties a year ago; relief program extended; BLM; Biden out-raises trump; another 1.4 mil file for unemployment; protests; Comrade trump; San Quentin; China's new draconian laws for Hong Kong; Mary Trump; police dept cuts; crooked judges; Rand Paul; masks; Pompeo; trumps dirty hotels; separation of church & State? Israel; Evictions; Amy McGrath; Weinstein; airlines; statues; white Jesus; racist attacks; Tik Tok; trump and foreign leaders; Fauci; Carl Reiner dies; Rolling Stones; Remdesivir; and tons more news.
                                                           

20th Year on the net!
Education you don't get anywhere else – commercial/censor free because of your subscription. Support truly independent media –. All downloadable.