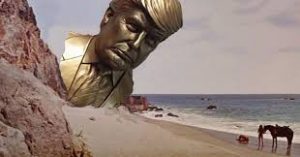 7/23/20 News of Planet of the Apes, with Meria.
Arguing over stimulus, rewarding trumps friends, churches, etc; Portland Mayor tear gassed; trumps punks; trumps dementia test; McConnell laughs at us; latest coronavirus info; trumps doctored ads; 1.4 million more on unemployment; detaining babies; Michael Cohen to be released; BLM protesters disappeared; Canada; Liz Cheney; racist Mississippi; the patsy; vaccine?; China; Erdogan; Israel; Kanye; trumps latest quid-pro-quo; AOC; the market; Twitter; lawsuit against Fox News for rape & sexual harassment; $41 mil to trumps donors; Bill Barr; Chad Wolf, unconfirmed, unfit and loads more news.
                                                           

21st  Year on the net!
Education you don't get anywhere else – commercial/censor free because of your subscription. Support truly independent media –. All downloadable.

Twenty first anniversary celebration of the Meria Heller Show!