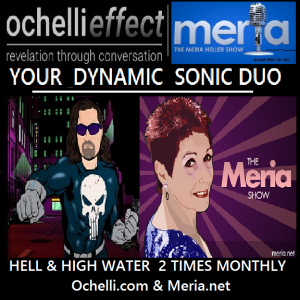 8/11/20 Hell & High Water with Meria and Chuck Ochelli.
Coronavirus; we have no consistency, no leadership, no direction; Russia's "vaccine"; the world looks at the USA in horror; Bill Gates; unemployment; Larry Kudlow; trumps insanity worsens along with his lies; Biden; christian "right"; schools reopening; Amazon-South Park; Post Office; Elliott Abrams; Secret Service; "shooting"? near White House; JFK; deep state? it's OUT in the OPEN; Dan Quayle; John Edwards; America has lost it's moral compass.
                                                           

21st  Year on the net!
Education you don't get anywhere else – commercial/censor free because of your subscription. Support truly independent media –. All downloadable.

Twenty first anniversary celebration of the Meria Heller Show!