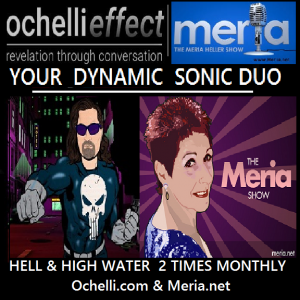 8/25/20 Hell & High Water, with Meria and Chuck Ochelli.
QAnon & JW's; trump legitimizes terrorists; Antifa; trumpfest 2020; coked up Jr; Michael Cohen's latest; Mary & Maryann; waiting on a savior; MSM; Nikki Haley on racism; the shooting of Jacob Blake; UN-Iran-trump; Coronavirus; our system of injustice – Lori Loughlin; the phony morality of evangelicals; Jerry Falwell; "Being There" with Peter Sellers; trump has no story; the Rose Garden; Steve Bannon; kids still in cages; the Post Office and lots more.
                                                           

21st  Year on the net!
Education you don't get anywhere else – commercial/censor free because of your subscription. Support truly independent media –. All downloadable.

Twenty first anniversary celebration of the Meria Heller Show!